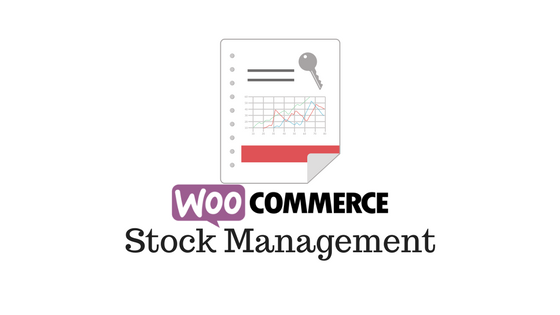 Last updated - October 9, 2020
When you are selling physical products through your WooCommerce store, two aspects need particular attention – shipping and stock management. We have already written multiple articles on shipping and related aspects. You find some insights on WooCommerce shipping here and here. Coming to stock management, how you handle it is dependent on your specific business scenario. Depending on the range of products, sales channels, and supply chain, you may have to invest in a good stock management solution. WooCommerce offers quite a few good plugins to help you integrate an inventory management solution seamlessly. This article focuses on the best WooCommerce stock management plugins currently available in the market.
It is a great idea to have a centralized process to handle all the updates related to your stock. WooCommerce stock management plugins help you manage all the complicated aspects of your inventory. Let's take a detailed look.
Smart Manager
Smart Manager is one of the most popular WooCommerce store management plugins. It lets you manage your WooCommerce store from a single screen using an excel-like spreadsheet 10x faster.
19350+ happy users, 4.3 stars out of 5 from 130+ reviews, 8+ years track record. You won't go wrong with Smart Manager.
Top features of using Smart Manager:
Bulk edit products, order, coupons, posts, any WordPress custom post type in seconds. Be it 100 or 100000, it will be handled.

Inline edit – make changes directly and Save.

Advanced search – Find the exact item you want from thousands of items in seconds .

Export CSV – Export data based on search, date and column filters.

Compatibility with top plugins like WooCommerce Bookings, WooCommerce Memberships, WooCommerce Subscriptions, Yoast SEO and others.
and a lot more…
There's also a free version also available on the WordPress repository.
WooCommerce Stock Manager
This plugin helps you manage your inventory in a centralized manner. In fact, you can manage stock for products and variations quite easily using this plugin. The interface has color coding to warn you when the stock goes below a certain value. And you can filter products by category, type, stock status, etc. Moreover, the plugin helps you export and import stock data via a CSV file.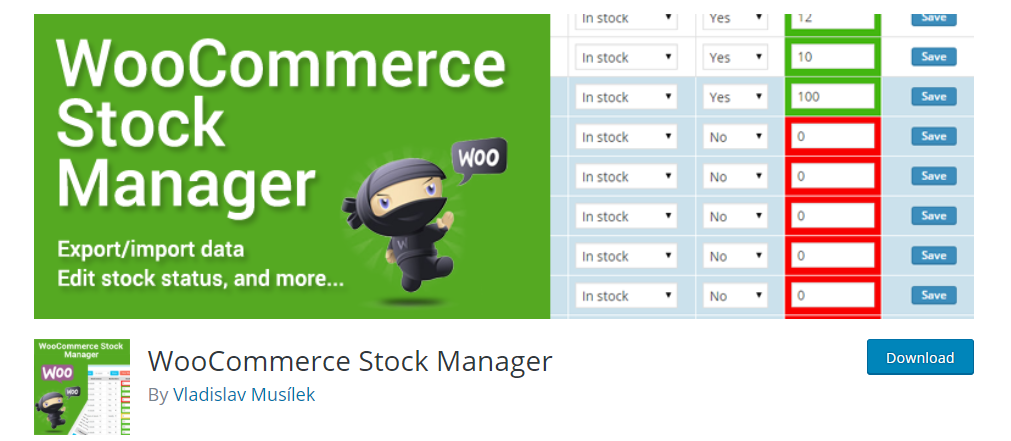 This popular integration synchronizes sales on your WooCommerce store with stock levels, fulfillment, and invoices. It offers a comprehensive solution to all your inventory management needs. TradeGecko automates the inventory management by creating purchase orders and managing stock updates and adjustments. It also enables you to create a separate B2B store with individual customer pricing, and discounts. Moreover, it provides detailed analytics that would give you a better perspective on your different sales channels, customer base, and product line.
The integration of TradeGecko with your WooCommerce store is quite smooth and seamless. It handles multiple aspects of your store pretty effortlessly, and keep the focus intact on growth. One of the primary advantages of opting for TradeGecko is that you will be able to manage multiple sales channels without hassles. All the different stores that you are managing will come under a single inventory management system. You can keep a track on your inventory all the time to make sure any required updates are done on time. And you get a perfect integration with top-notch accounting systems as well.
Pricing plans start from $79 per month when billed annually. And there is a free trial for 14 days to know it better.
Visit the integration page here.
WooInventory
This is another decent solution that will help you manage your WooCommerce inventory efficiently. The plugin offers a great set of features to enable you to handle all aspects of your inventory management. Options to enter purchase invoice and stock adjustment would make it really useful to keep your inventory up to date at all times. The plugin also offers you options to set alerts and email notifications for various stock levels. In addition, there is an item ledger that will give you a complete idea of all the stock, purchase and sales details of a specific item.

Stock Position Report is another unique feature of this plugin. This report will provide you insights on all transactions for a period of time that you specify. In addition, there is a stock planner option, which will give you an estimate on how long the existing stock will last. This will help you plan the purchase well ahead in a more assured manner. The basic version of the plugin is available for $199. However, you can get advanced features like Stock Planner, Alerts, and Valuation in the pro version, which cost $389. Furthermore, you can check out a few add-ons such as POS integration, Purchase Order System, and Multi-Location Inventory too.
WooPOS
This is a powerful inventory management solution that you can try for your WooCommerce store. It helps you gather all the required information for inventory management in an organized manner, and thereby make it contribute to your growth plans. The purchase order management of this plugin is flawless, offering you great grasp on stock adjustments. You can set a minimum threshold for stock value, upon which a purchase order will be created automatically. This will make sure that you will not lose out on a sale because the product is out of stock. In addition, it also helps you manage multiple sales channels and facilitate easy movement of stock from one store to another.
WooPOS also comes with a custom barcode label generator, which will help you a lot in product identification, logistics, procurement, etc. It also enables you to take into account the actual, physical stock value, when doing a periodic stock assessment. It also helps you with stock adjustment needs that you may face occasionally when products become expired or damaged. You can get a package with unlimited customers and products for $25 per month per active user. There is also a free version that has a limit of 100 customers and products.
Zoho
Zoho focuses sharply on your sales with great control over inventory management and order fulfillment. In fact, it allows multi-channel inventory management. That means you can integrate all the places where you sell your products such as Amazon eBay, etc. It also helps you manage purchase orders, back orders and drop shipping. In addition, it gives you serial number tracking through which you can keep a track on the movement of a particular item more efficiently.
Moreover, Zoho has integrations with popular shipping carriers, that will help you provide real-time rates and tracking information. If you are looking to integrate your stock data with accounting and CRM tools, that too is well taken care of with Zoho. And, if you have multiple warehouses, it also helps you compare stock and facilitate transfer and reporting of products between them. The price of the 'Basic' version is $29 per organization per month for 100 orders. You can handle up to 30,000 orders per month with the 'Professional' package at $249 per month.
The WooCommerce integration for Zoho is made possible with Kloud Connector, a cloud integration platform.
Bulk Stock Management
This WooCommerce extension provides you a handy option to manage the stock levels in bulk. You can filter products by type, stock status, etc., and order them by SKU, ID, stock status, etc. Using this extension, you can easily update stock status for multiple products at the same time. Additionally, you can print the stock status of all the available products as per requirement.
WooCommerce Stock Management Guidelines
Stock management can be a tedious task if not managed efficiently. It is a wise idea to follow a few of the best practices recommended by industry experts in this matter. Here is a compilation of some of the best strategies for efficient WooCommerce stock management.
Maintain the stock level wisely
When you are running an eCommerce business, you need to be aware of how much stock you are maintaining at all times. This is possible by staying on top of the demand and supply process. However, this is no easy process, as it is not always easy to predict future demand. In such a scenario, the wise thing to do is to go by past experience. You can analyze the past sales and sale trends of a product and try to gain some insights from that. Once you clearly analyze the past sales data, you can arrive at a figure to set a minimum stock value. When the stock level goes below this value, you should get an alert to replenish the stock.
Some of the tools we discussed above really help you handle aspects like this effectively. After all, not being able to maintain an optimal stock might affect you in two ways. Overstocking can lead to unimaginable difficulties in storage and warehousing. On the other hand, if you are understocked, you might lose a potential sale, and suffer back order related challenges.
Manage the supply chain well
You need to continuously update your inventory according to the demand. For this, you need to ensure a reliable supply process to help you stay on top of things. Sourcing your stock from multiple suppliers is obviously a good practice. That way, you might be able to save your day if one supplier is not able to provide you the required quantity. However, maintaining good relations with your suppliers is a good thing to do here. Sharing your stock levels with trusted suppliers might be a good idea to keep them updated all the time. Fortunately, WooCommerce offers advanced solutions to share stock data with suppliers and other relevant people in your team.
Devise strategies for slow-moving items
Despite all your good efforts to predict sales behavior, you might still find some items not moving as expected. It is essential to make adjustments in such cases before it becomes too late. A good inventory management tool will help you identify such issues in a timely manner, and take prompt action.
Handle multiple warehouses
Often you may have to keep your stock spread in multiple warehouses. At such times, being able to keep an update of the stock level of each is an important thing. The inventory management tool that you select should have the ability to connect multiple warehouses. Another advantage of this is that it gives you some choice in fulfillment as well. For example, based on customer location, you can decide which warehouse fulfills a particular order. This way, you will be able to have a cost-effective shipping strategy as well.
Make sure you can easily move stock data
When managing an online store, it is really important to move data between multiple tools. For example, you may want to use this data in the CRM or accounting tools. When you look for a good inventory management software, this ability is one important aspect to look for.
Build customer confidence
How your customers perceive your store is an important factor that determines the success of your store. You need to be transparent about the product availability at all times. If certain products are out of stock, you need to update that on the front end of the store without fail. Otherwise, complications resulting from backorders can seriously damage the reputation of your store. Some of the tools we have discussed above help you keep a good watch on depleting stock and helps with prompt action.
Invest in a good stock management tool
The above aspects clearly point to the need for investing in a good stock management software. At the start, you may find it relatively easy to handle everything related to your store. But as your store, product range, and customer base grow in size, you may need a solid solution to save your day. Fortunately, if your store is using the WooCommerce platform, you can try out one of the options discussed above.
Conclusion
WooCommerce stock management can become quite complicated when your store grows in size. Multiple sales channels, suppliers, warehouses, etc., can create really tough scenarios. WooCommerce stock management plugins can help you centralize the entire process, and thereby give you, the store owner, great control. Most of these plugins help you handle multiple sales channels and warehouses and help you integrate with other aspects of order fulfillment and supply chain management. This article has attempted to highlight some of the features of popular WooCommerce stock management tools. Let us know if you have a query or suggestion.
Contact us
Find us at the office
Humble- Micallef street no. 52, 81559 Jakarta, Indonesia
Give us a ring
Arieal Keswick
+27 450 860 545
Mon - Fri, 9:00-18:00